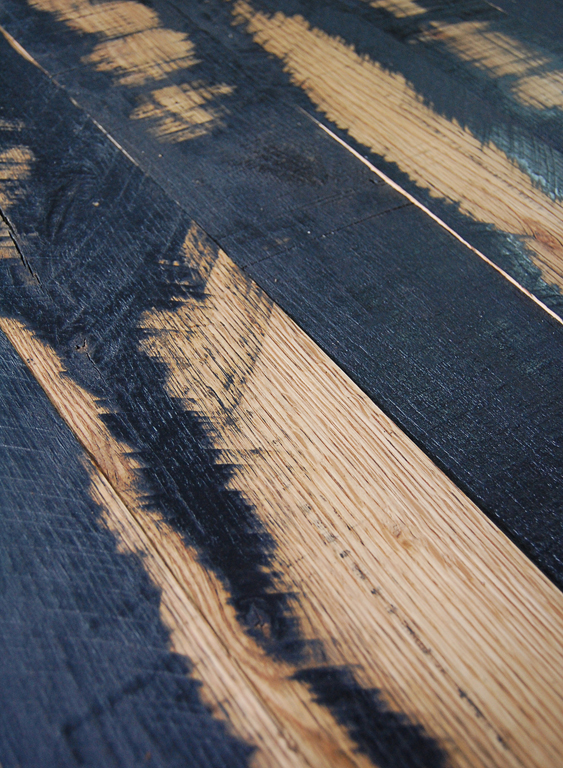 牧場の柵板を素材として利用した商品で、適度に調整されたプレナー加工を施すことで、50/50は、視覚的なインパクトを提供します。様々な床材や壁材などとして利用が可能です。約4年前に商品開発後、流行してきた人気商品です。牧場の柵を板素材として利用した商品です。
Color & Character
ブラック&タンの素材において、各板の厚みが異なる為、50%/50%といった独特のプレナー加工製品になります。上品な質感、綺麗な木目模様にクラックや節がより素材の本質を引き立たせます。自然素材のバリエーションの為、この厚みが異なる素材は、環境にやさしい黒色塗料を異なるレベル塗り重ねてある事で、個体として異なる表情を表しているので、同じものは、ありません。さらにサンディンする事で、外観を調整する事が可能です。
Available As
Solid Flooring

Solid Plank Paneling
| | |
| --- | --- |
| Thickness | 19.1mm |
| Widths | 114.3mm |
| Lengths | 609.6~1828.8mm |
| | |
| --- | --- |
| Thickness | – |
| Widths | – |
| Lengths | – |
1290
0
500
1000
1500
2000
Low Traffic
High Traffic
Our Black & Tan oak is reclaimed from agricultural planks throughout the USA. We're proud that we give this old wood new life as flooring, millwork, cabinetry, and more.
Finishes
Black & Tan flooring is available unfinished or prefinished. Prefinish includes hand applied oil and wax or factory applied aluminum oxide which requires a micro bevel on each piece of flooring. Scratches that occur on a floor finished with oil and wax can often be lightly sanded out. Reapply oil and wax after sanding and let cure.
Spills of any kind should be cleaned up immediately.

Broom clean for regular maintenance.

Consult finish manufacturer for appropriate cleaning instructions.
Green
True to Pioneer Millworks' environmental commitment, the black paint was traced back to its original source and was found to be an environmentally friendly, waterborne polymer. It is a non-toxic, non-flammable, solvent free, low VOC waterproof coating used in agricultural settings and safe for use around farm animals. Our products are made here in the USA, in a way that's healthy for you, our employees, and the environment. The 13-acre NY facility is 100% wind powered. Our mill and kilns are heated 100% with our scrap wood. Pioneer Millworks is FSC chain of custody certified in three categories and Green America approved. All of our products are LEED points eligible.
Installation
Our solid flooring features precision milled tongue and groove that can be nailed or stapled down. The World's Most Eco-Friendly Engineered flooring is entirely tongue and groove including end matching. It can be nailed, stapled, glued down or floated.
We suggest ordering an additional 7-12% for most orders to cover trimming and installation waste.

We always recommend using a professional installer and can note a few good ones local to your area.
Reviews
Already have this floor? Send us a note and photo, we'll post it.